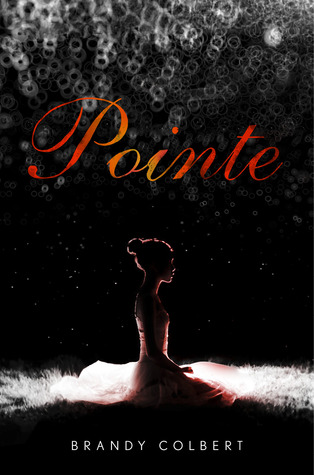 Theo has been doing a lot better since returning from being away.  She's eating again, and dancing again.  She's dating boys who are almost good for her, and her future is looking up.  But then Donovan, her childhood friend, returns home after living with his kidnapper for over four years.  His return–and the revelation of who took him–makes Theo start reliving the past.  She's haunted by what happened, and the role she played in it all.
Without a doubt one of the strongest debuts in recent memory and absolutely one of the best books of the year, Brandy Colbert's excellent, haunting, gorgeous novel about a girl who struggles to find balance in her life after it's completely upended is something you don't want to miss.  Absolutely compelling, beautifully written, and wholly memorable, this is a knockout of a book.
Pointe tackles an immense amount of subjects and topics, but it does so with a kind of rare grace.  In a lesser author's hands, the sheer amount of ground this novel covers would feel like too much stuffed into the book, but it works well here.  Colbert is able to weave together the many issues in a seamless way, making her characters fully realized and startlingly authentic.  By combining Theo's past and present, readers are presented a full picture of who Theo is and how she became that girl.  It's amazingly well done, and Theo is the kind of complicated, smart heroine that makes complex novels like this one so good.
Colbert also fleshes out the characters who inhabit Theo's world, making the story that much richer. She has two devoted best friends, present, loving parents, and other supportive adults in her life.  But she also has secrets, and those cause her a great deal of shame.  Her oftentimes tortured inner monologue never feels like too much, though: Colbert's characters are flawed but very human.
There's a great deal more to the story, but it's best left to the readers to discover it.  With Pointe, Colbert has crafted a novel that is compelling, empathetic, and sharp.  Theo is a memorable, strong character, and her story is a fascinating one.  Although the book doesn't end with all the loose ends tied up, it does end on a hopeful note, making Theo's journey all the more satisfying.
Highly, highly recommended.
Pointe by Brandy Colbert. Penguin: 2014. Purchased copy.