Top Ten Picks is a meme started by Jillian at Random Ramblings.  I've been jumping around, and I certainly haven't been posting these every week, but I thought that today I'd tackle my favorite book-to-movie adaptations.  Creating this list was difficult because there are actually a lot of movies that I love that are based on books.  When selecting for this list, I tried to pick the movies that I felt best encapsulated the book's overall message and theme.  I chose only titles that I have both read and viewed, so it narrowed down some of the possibilities.  It was still hard, though.  Ready?  Here we go!
1. The Sisterhood of the Traveling Pants

Ann Brashares' first novel in the really excellent Sisterhood quartet was brought to film in 2005.  It tracked the summers of the book's four heroines fairly well, remaining close to the original story lines presented in the book.  Although at least one of the stories was pretty watered down (I'm looking at you, Lena) in order to lessen the emotional roller coaster that viewers would have to experience, the movie was well-written and mostly well-cast (jury's still out on you, Blake Lively).  I re-read the books every year or so, and I always follow it up with a viewing of this movie, which never fails to make me cry (that scene where Carmen calls her father and they both cry?  COME ON!)
2. Matilda by Roald Dahl
Danny Devito directed the movie-adaptation of Roald Dahl's beloved children's novel about a young girl with telekinetic powers and a terrible family.  Released in 1996, the movie was a mix of quirky humor, slapstick comedy, and a few dark moments (in the true spirit of Dahl).  While I know at least one person who loves the book and hates the movie adaptation, this is one movie that I will always watch when I see it on cable.  I truly enjoy watching the characters (and they are characters) come to life on the screen.
3. High Fidelity by Nick Hornby
John Cusack stars in the 2000 adaptation of Nick Hornby's funny and insightful novel about a music-store owner who counts down the most painful breakups of his life.  While I really enjoyed the book, this is one where I believe the film surpasses its source material.  Something about the film's structure combined with the script and an extremely talented cast (Tim Robbins as a new-age douche?  I'm sold.) works perfectly.  This is one of my favorite movies of all-time, and I revisit it at least once a year.  If you haven't seen it yet, what are you waiting for?
4. The Baby-Sitters Club by Ann M. Martin
I'd be lying if I didn't admit that this movie isn't necessarily of the same caliber of some of the other titles on this list.  Is it nostalgia that allows this movie to make this list?  Probably.  However, I still think that it fulfills my requirement of encapsulating the general ideas and feel of the book(s) its based on.  It's hokey and overly-sentimental, but it was surprisingly well-cast (except for maybe Luca, who was an ill-advised character to begin with) and really, really fun for those of us who grew up with the books.  Okay, maybe I just really like Larissa Oleynik.
5. Sense & Sensibility by Jane Austen
Emma Thompson wrote the script and Ang Lee directed this beautiful, charming movie based on Austen's second-most famous book.  It debuted in 1995 and remains, to this day, my favorite Austen adaptation.  While I love the BBC mini-series version of Pride & Prejudice (the Colin Firth) version, I believe that this movie has all the charm, heart, and wit of Austen's quiet story about sisters who are very different but love each other very much.  With an unbelievable cast, this movie is worth seeing, even if you're not much of an Austen fan.  Seriously.  Get your hands on a copy.
6. The Shining by Stephen King
I read the book the summer between eighth and ninth grade when I was staying at a friend's cabin.  I remember sitting on the couch in the middle of the day and still being terrified by what I was reading.  Stanley Kubrick's 1980 adaptation of the Stephen King novel was no different: terrifying, magnetic, and absolutely haunting.  If you haven't seen the movie, do so.  If you haven't read the book, read it, and then watch the movie.  It's so worth it.
7. Room with a View by E.M. Forster
The movie was released in 1985, which is the year of my birth.  I remember watching the  movie when I was pretty young and loving it even then, despite not understanding all of it.  I read the book a few years ago and found it delightful.  The film remains nostalgic for me in that it's a piece of my (unique) childhood, a happy memory that includes my mom and my sister.  Love it.
8. Mrs. Frisby and the Rats of NIMH by Robert C. O'Brien
Released in 1982, the movie is one of my favorite cartoons of all time.  This is saying something, because I'm not much of an animated movie fan.  The book is also good, but for me, the movie is tied to my childhood (are we sensing a theme with this list?) and remains a favorite of mine even in adulthood.  The fact that I had a crush on Jonathan the rat is something that I try to downplay (he was a rat, but his voice was super-attractive, people.  You know I'm right!), but it goes along with my romantic personality.  I've been boy-crazy (and rat, apparently) for as long as I can remember.
9. The Virgin Suicides by Jeffrey Eugenides
Release in 1999, this film by Sofia Coppola was both beautiful and really, really depressing, just like its source material.  There was something about seeing the Lisbon sisters come to life on the screen in all their ethereal beauty.  It's a haunting tale, and something about reading the book and then seeing the movie makes the story stay that much longer with you.  It's worth seeing, even if you're not much of a Kirsten Dunst fan.
10. The Witches by Roald Dahl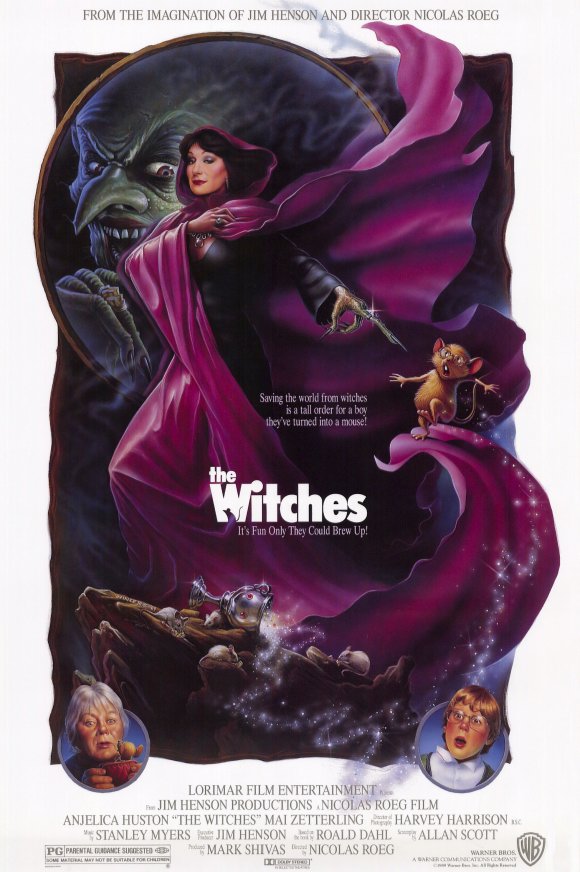 Yes, another Roald Dahl book and movie adaptation makes the list.  Released in 1990 (man the 90s were good to me), this movie was both completely entertaining and really, really scary.  Starring Angelica Huston as the head witch, Dahl's book came to life on the big screen and has stayed with me all of these years.  It was a movie that I watched with my sister and one of our childhood friends over and over again, and we were always fascinated by the girl in the painting, the witches' eyes, and the fact that they had no toes.  Am I remembering this right?  It might be time to watch it again.  "GRANDMAAAAAA!"
All right, Readers, what did I miss?  Am I totally off-base with this list?  Does anyone else want to spend the next few days reading books and watching their movie adaptations?  Just me?